---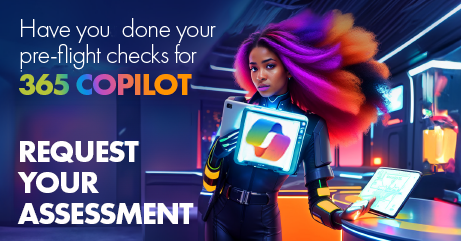 Microsoft 365 Copilot is on the horizon and has been described as the most powerful productivity tool on the planet. Currently in the early stages of development, Copilot has only been released to a select number of customers so far. However with release to Microsoft's "Enterprise" customers from 1st November 2023, we predict it won't be too much longer before it becomes generally available to SMB customers. We're therefore offering our clients the chance to review their readiness and make the necessary preparations for Copilot prior to its full release.
Air IT's Copilot readiness assessment is an evaluation of your organisation's readiness to adopt Microsoft's new AI solution for 365, Copilot. This will enable you to take full advantage of Copilot's capabilities when it becomes fully available.
Carried out by one of Air IT's experienced Microsoft engineers, we will conduct an in-depth audit of your business and its overall readiness for Copilot. Following a comprehensive review of your existing set-up, we will provide you with a detailed report, including any recommendations or changes that need to be made before Copilot can be implemented, therefore enabling you to prepare ahead of its full release to SMB customers.
We assess the following areas...
Infrastructure compatibility (any upgrade requirements)
Microsoft 365 licensing alignment (upgrade requirements)
Data Management , including Storage and Security (e.g. how your data is accessed, managed and stored)


What you will get...
Detailed report of your current readiness for Microsoft 365 Copilot, including any required changes and recommendations prior to implementation
Potential ways Copilot can benefit different areas within your business
Bespoke readiness roadmap, outlining next steps and timescale to achieve the minimum standards required prior to implementing Copilot
Please note: due to the time required to conduct this kind of assessment this service will incur a small charge. Please speak to us or contact your Air IT Account Manager for further details.